Restored plots of eelgrass in Elkhorn Slough expanded rapidly, providing improved habitat for fish and invertebrates and other benefits of a healthy ecosystem
As the dominant seagrass species on the U.S. West Coast, eelgrass supports a wide range of ecosystem services and functions, making its preservation and restoration a top priority for the region. Eelgrass restoration has a spotty record of success, however, and studies of restoration sites have rarely assessed the full range of ecosystem functions.
In a new study published October 6 in Ecological Applications, researchers demonstrated that eelgrass restoration efforts can lead to rapid expansion of restored plots and recovery of ecosystem functions.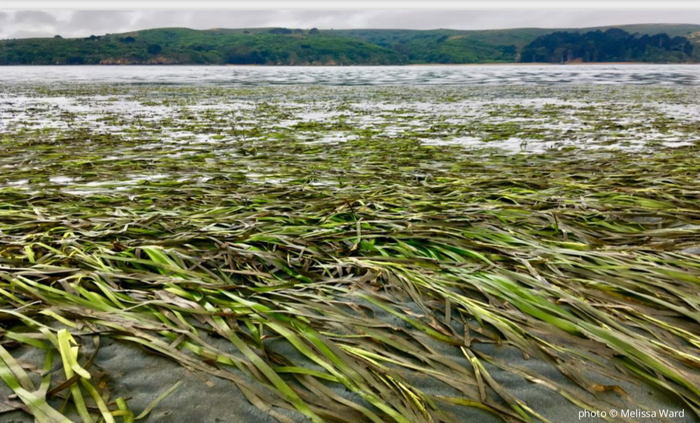 The study involved small-scale experimental seagrass restoration efforts in Elkhorn Slough on the Central Coast of California. Researchers transplanted 2,340 shoots of eelgrass from healthy meadows into 117 small plots, and evaluated their success relative to areas without vegetation and natural eelgrass meadows.
…
The benefits of eelgrass meadows range from coastal protection and sediment stabilization to providing food and shelter for many species of fish and invertebrates. Eelgrass meadows provide crucial nursery habitat for many commercially important species, such as Dungeness crab, California halibut, and Pacific herring, whose juveniles find protection within the dense canopy. By slowing water flow and attenuating waves, eelgrass can act as a storm buffer and can protect developed coastlines from storm surges. Eelgrass meadows also counteract ocean acidification by absorbing carbon dioxide from seawater.
"Seagrass provides a whole suite of ecosystem services that we rely on, including all the recreational uses by folks like birders, kayakers, fishers, and others," Beheshti said.
She noted that the California Ocean Protection Council's Strategic Plan to Protect California's Coast and Ocean includes a target to preserve the existing, known 15,000 acres of seagrass beds and create an additional 1,000 acres by 2025. In addition, she said, NOAA's National Marine Fisheries Service is updating its California Eelgrass Mitigation Policy, which currently calls for "no net loss of eelgrass habitat function" but does not require mitigation projects to assess habitat function.
…
University of California Santa Cruz (via EurekAlert!), 25 October 2021. Press release.